Antechinus® C# Editor: visually design .Net applications with with the best programming language today
World's Best FREE C# Tool
Easily create console and Windows programs,
libraries and add-on modules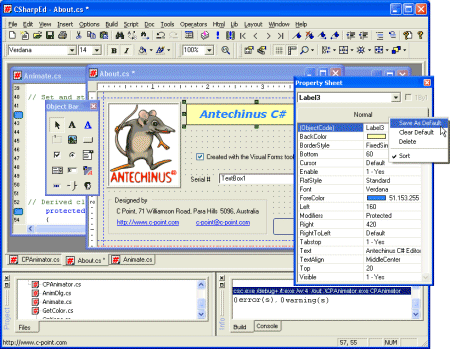 "Some time ago I was searching for a C# editor that would allow me to learn the C#-programming language. The program should be easy to work with and (as we all wish) not cost a whole lot of money.
I read about the Antechinus C# Editor at download.com, and decided to try it out. After using it for a couple of days, I could see it worked really well for my needs.

As an enthusiastic hobby programmer I wanted to learn C# from scratch without using a visual editor. This is, I think, the best way to learn a new programming language. Coming from languages like Object Pascal, C++ and Visual Basic, the switch to C# was not a very hard one and using Antechinus certainly made that switch very easy and enjoyable.

Since then, the program has been upgraded with a visual editor and although I have not use it so much (still like to write windows-based program from scratch) the times I have been using it, it has worked
without any major problems.

I would also like to mention the great support I have got from the C-Point team. Just email them about the problem and in no time you get an answer to it.

From my perspective, this is a great program and I would recommend to anyone who wants a low cost C# editor."
- Claes Blomquist
Norrkoping Sweden

I'll go out on a limb and say that C# is the best programming language today. Why? It's as simple as Visual Basic, as powerful as C/C++, and it runs on top of .Net framework, which gives you thousands of ready-to-use solutions. C# has what we, experienced C++ programmers, have always wanted.
Would you like to write code that works everywhere? C# has been standardized and ported to Unix / Linux (Mono Project). I recommend C# as a great solution for cross-platform development of console and window programs, libraries and add-on modules.
You can greatly simplify and speed up your coding by using the right editor. You will find Antechinus® C# Editor exceptionally easy to use and a great tool for every level from a programming novice to an expert. With C# Editor, you will become an expert faster than with any other program.
In a moment you will also learn about unique solutions that will dramatically boost your coding speed, and also save 80% of your time when you easily re-use your code whenever you need it.
"I am more than happy to review C# Editor as it is a great piece of software.
C# Editor is a small foot print editor which is rich in features. Whether you are a pro or just starting out with C# you will find something to help you work or play.
It is also great for demo's or just trying a sample out. You also get a C# tutorial which will have you up and running in no time at all."
- Jeremy Hilder
www.jasminedesign.com
No guesswork: design Windows forms visually
You will often need to create forms/dialogs so that your program can communicate with the user. You do it effortlessly with the Visual Form tool:
Click here for a larger image
Adding buttons, edit boxes and common controls is a straight-forward drag-and-drop operation. You will appreciate the ease of design layout:
Align, center, and space your objects easily
Resize them, and
Specify the tabbing order (layout order, or Z-order).
Buttons and other objects have background color, text, visibility and other properties you can set. You do it by bringing the property sheet of an object. It does not get any simpler than that.
Easy and lightning-fast editing of C# code
Features that make C# editing effortless include:
| | |
| --- | --- |
| | Bookmarking for easy navigation. |
| | |
| | Color-coded syntax. You can instantly identify comments, classes, functions, and other elements. Color also helps you with potential problems, for example a text string missing the second " quote. |
| | |
| | Ability to experiment - unlimited Undo and Redo are only one click away. |
| | |
| | Save time by loading your working files automatically next time you run the program. |
| | |
| | Single-click navigation between documents using document tabs. |
| | |
| | Line numbers. Optionally, you can have line numbers displayed. |
| | |
| | Fast text searching. |
| | |
| | Easily document your code. |
| | |
| | Automate code insertion and repetitive tasks, and provide macro-like capabilities via industry-standard Visual Basic for Applications (VBScript). |
| | |
| | The brace matching - see the scope of the function or expression immediately. |
| | |
| | Have a head start by using predefined templates, or create your own templates: it is much neater and faster than trying to re-use the code with copy-and-paste. |
| | |
| | Comment out or un-comment your code with one click. |
| | |
| | C# reference and comprehensive tutorial. |
| | |
| | Integration with .Net tools. |
Easily integrate other tools...
Use the Editor's Tools menu to add other programs so you can open the document you are working on with other tools. Our competitors' editors often have poor inter-operability. We have takes special care so you can get the best out of C# Editor by combining it with your other tools.
Have you already invested top $ in Visual Studio.Net? Use both! Here is what professionals are saying:
"I just downloaded the trial version of the C# Editor, and though I already have Visual Studio I can say that it looks nice. I'm a 'minimalist' and feel that while IDE's like VS have their place most of the time what I really need is a potent editor, and the C# Editor has the potential to be my tool of choice."
- Johan Dahlstrom
Sweden
"I have downloaded your C# Editor. I like it very much. I am a long-time CodeWright user, and would really like something a little more lightweight, with a less clunky interface. Antechinus is a perfect example of what I want."
- Paul Beckingham
"I have started to use the C# Editor and found that it is probably the best currently available in the market."
- Adrian Chow
"The very first professional C# editor is the Antechinus C# Editor from C Point. This editor is already a favorite of many developers (such as myself) that have been using C# since it began in alpha."
- Tom Archer
Code Guru

...and annotate your code better than ever
Do you have a habit of annotating your code? You should. Do not make a mistake and leave your code undocumented: C# compiler will automatically produce the documentation from the comments you provide, and Antechinus C# Editor makes this really easy.
C# Editor also allows you to annotate your code better than any other tool, through Running Annotations. This is important because you almost never use your code in isolation: their use may be linked to programs, web pages, other documents and files.
To use this feature, simply place the cursor anywhere within " " double quotes (or ' ' single quotes) to select the program to run or file to open, and click Run Annotation (or, highlight the text to select it, and click Run Annotation).
Referencing everything from your code makes your projects more organized.
Publish your source code
Do you need to place your source code to the web, or perhaps write a book? Use your source code directly:
Export your code as HTML to publish it on the web, or
Export your code as rich text (.rtf) for use in Word and other documents.

Have your code error-free in record time
Unless your code is very simple, it usually has typing and other errors. How do you find them and correct them? Just click the Compile button and if there are any errors navigate to them in your code automatically for a speedy correction.
"Just downloaded the C# Editor - Am having fun with it already; it is very intuitive and am running simple console programs first crack out of the box! Can't wait til tomorrow when I'm not so blurry eyed."
- Donald R. Plum
(address and e-mail supplied)
Get help as you type
C# Editor's productivity tools are a real time-saver, and they are also more than that. Without them you would find it a lot harder to write error-free code and maintain your documents.
Intellisense/auto-complete covers over 2,000 .Net Framework classes with thousands of methods and properties. Without this, you would have an impossible task of trying to memorize this body of knowledge.
"Wow on your version 4.0 of the C# Editor! I can now learn the language and have Intellisense to find the properties and methods. With your new version, I have decided to purchase a book from Wrox called Professional C# programming. Your editor will allow me to learn the language...
...in short, I am impressed with your newest version of your editor. Please keep me informed when you have any other editor versions for C#."
- Ralphael Langston Brown II

Type-in templates are reusable chunks of code which at least double your coding speed. Just type the first few letters of the template and press Ctrl+Space: this will pop a list with all the matching templates:
The template prompts you to fill-in the blanks, if any.
As your expert knowledge grows, you will quickly assemble many pieces of code that you want to reuse. You can do it easily: with just few clicks you can turn any piece of code into a template, with or without parameters. This is also a great mechanism for creating any startup files.
Develop Asp.Net web pages
C# is great for web development too. You can achieve complex tasks just by few C# code islands in your Asp.Net web pages, which you easily do with Antechinus C# Editor.
"I prefer Visual Studio .NET for large projects, and Antechinus C# Editor, by virtue of its compact size and simplicity, for small projects and demos."
- Jonathan Goodyear
Visual Studio Magazine
Speedy testing of console applications
Testing your console applications can bog you down:
If you just run them from C# Editor, they can do the job (or not do it!) and close down before you have a chance to see what has happened.
Opening the command prompt, going to the right folder and launching the program is tedious and a nuisance.
Your C# Editor can run console applications and capture and show you the output.
You don't need to waste time switching to the command prompt, or have the program execute and close before you can see what's going on.
If there are any errors, you'll find them quickly: just hit F4 to go to the exact location of the first error (and subsequent ones) in your code.

What makes C# Editor so easy to use?
"Easy-to-use" is not a phrase I use because the competition does it too. C# Editor is easy to use because:

You can use the software straight away: there is no steep learning curve to master.


You will not be dragged through multiple option screens: everything is logically grouped together.


You will never have to hunt for a command through deeply-nested menus.


As you can see from testimonials, we hear all the time from our customers how easy-to-use C# Editor is.


Powerful tools aid your design whenever possible.


A mouse click (or a keypress) goes a long way: you will not have go through multiple configuration screens to get the job done. The software does lots for you under-the-hood.


You are not left in the dark: step-by-step approach is used whenever possible.
"It´s easy to use and doesn´t require lots of memory to run."
- Robson, System analyst
Sao Paulo - Brazil
"The interface is brilliant and very easy to use."
- Joe Barrett
(address and email supplied)
You will enjoy developing with Antechinus® C# Editor. Have you tried any of the competing editors? Some of them are good (at a cost!), but Antechinus is truly unique - it does not happen often that you have such a powerful program that is so easy you can use it straight away.

The C Point team spent years perfecting Antechinus® C# Editor, but the single-user license is yours for only $49.95 FREE. You will receive your license and registration within 5 minutes of ordering.

"I've been enjoying the Antechinus C# Editor!

C# is a new programming language to me and, as one who has programmed in a wide variety of computer languages over the years, I know that visual IDEs are marvelous for rapidly assembling the user interface but they are a hindrance to learning the language and its finer points.

This C# Editor has everything you need to both climb the learning curve and to maximize productivity once you're there."

- Thomas Speziale



With your C# Editor you also receive:

5 ready-to-compile projects
with user interface classes

Magic Library is the User Interface Library for .Net, courtesy of Crownwood Consulting Ltd.

Creating user interfaces is hard: why spend your time doing it when you want to focus on content?

Save your time by effortlessly creating great-looking, functional user interfaces with Crownwood's Magic Library. To see it in action, there are 5 ready-to-compile projects:

Menus
Docking
Tabbed groups
Tabbed control, and
Wizard.

What are others saying?

"We are pleased to notify you that our editor's team have been very impressed by your excellent application Antechinus C# Editor.

Believe me, testing thousands of applications monthly, they have become very selective and hard to impress. In fact, they rave about very few applications.

We sincerely congratulate you for the excellent job that you have done and want to recognize your achievement by awarding you with our Editor's pick gallardon: our highest recognition."

- Arthur Joyner
www.softwareseeker.com





| | | |
| --- | --- | --- |
| PC World | ZDNet | PC SoftLand |
| | | |
| 5/5 user rating | 9/10 user rating | |

We have had really nice reviews of C# Editor; great feedback and e-mails of support from people using it; and there are companies using Antechinus to deliver C# training like Accelebrate and Webucator. C# Editor also won many awards - I am only showing you few here. If you wish to see the complete list, click here.


C# Editor is a part of Antechinus® Creative Suite Standard Edition, world's best FREE tool for creating, editing and deploying animations, images, sounds, and other resources.

It does NOT contain any 'helpful' browser toolbars, advertising applets, or nasty surprises. Just great software you use every day... and it's free :)
I look forward to seeing your creations.
With warm regards,

Dr Alex D, Director
C Point Pty Ltd