"... it is by far the best source code formatter I've come across...
I wish to congratulate you on the editor that does exactly what I need. I tried several editors but Code Chameleon was the best for supporting all web formats I work with and on top of that I can compile my Java applets too!
...the new project & workspace handling is great, love it!"
- Phil Krpan
Consultant / web developer
Web Warehousing
"Your scripts, code & web pages
just the way you want them"
Code Chameleon: FREE source code
formatter / beautifier and editor
Easily format, optimize and cleanup your scripts, programming code and web pages. Convert HTML to XHTML with the built-in source code beautifier.
"Fastest editing for multiple technologies"
Are you using multiple technologies? Today's hectic technological pace makes it next to impossible to do web development, scripting or programming, by relying on a single technology. Some you may use often, but some you may use only from time to time, and purchasing cumbersome, full-blown IDE for every language is not practical.
Code Chameleon is easy to use and it combines the best of text-editing with unique features to more than double your coding speed, and turn it into pure pleasure.
Do you have your own scripting / programming language?

Support it in no time: with Code Chameleon creating new language definitions is as easy as filling an .ini file.

No need to waste your time or write a plug-in. Creating a new language profile is easy: the comprehensive manual tells you step-by-step how to do it.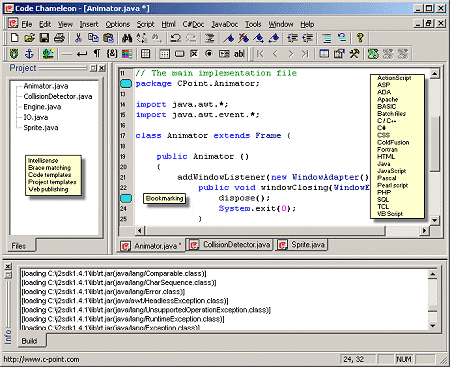 Dear fellow web developer,
Your scripts, programming code and web page components today come from a variety of sources. This means different coding standards, combination of manual and visual editing, differences in upper/lower case, using/not using quote marks for properties - all combined to create a maintenance nightmare.
Have you ever tried to manually change someone else's code to your formatting standards? How about your web pages - are they still in HTML or using modern, well-formed eXtensible HTML (XHTML)?
You will find it quick and easy with Code Chameleon - there are few source code formatters/code beautifiers that can match its power. I'll tell you more about it in a moment...
Computing of today involves multiple technologies. What do you use to edit your scripts, programming code, web pages and text files? Are you tired of switching to the command-line and editing code with inadequate tools?
Specialized editors are a must for formats you use all the time they: our entire team uses JavaScript / PHP Editor, for example. However, it is impossible to have a specialized editor for every technology you use because:
Good ones cost good money.
You need to learn a new set of commands and user interface each time.
Ease-of-use and consistency are hard to find.
Have you searched for a common-purpose editor? There are plenty of them but good ones are hard to find. After using Code Chameleon internally and upgrading it for 3 years, I decided to share this small, fast and versatile editor with you and other people with similar needs.
Some editors offered by the competition are quite good, but they all share 3 major problems:
They cost too much for what they offer.
They are skimpy on the productivity tools. Yes, you can edit in many formats, but not at the speed you'd desire.
They are hard to extend and tend to lock you into their own environment. For example, how easily can you add a compiler to your editor and direct it to compile the file you are working on? Can you easily add a new language to the set of supported ones, or do you have to write a plug-in?
Apart from exceptionally easy editing, Code Chameleon has some unique solutions that will save 80% of your time when you easily re-use your code - I'll tell you more about this later...
Quickly format your scripts, code and web pages
Your source code comes from a variety of sources. Chances are, it will never be formatted the way you want it and maintaining your source in many different coding styles is not something anyone would like to do.
With Chameleon's code beautifier you easily format, cleanup and optimize your code.
Save time - store your formatting settings and apply them at once on multiple files.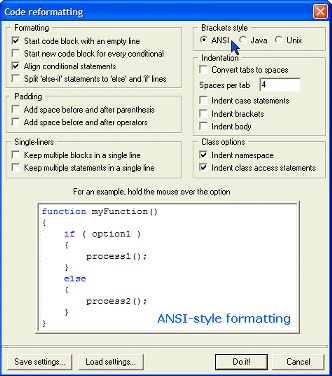 Click here for the full-size image
The source code formatter works well with a variety of languages, and is optimized for C, C++, Java, JavaScript, C#, and ActionScript.
Visual HTML editors speed up your web design, but often produce "dirty" HTML code that is yet to be optimized. Or, have you ever observed how HTML code looks like when you save your Word document as a web page?
Code Chameleon includes powerful XML, HTML and XHTML formatting options, allowing you to produce code that is highly optimized, well-formed and easy to read and maintain.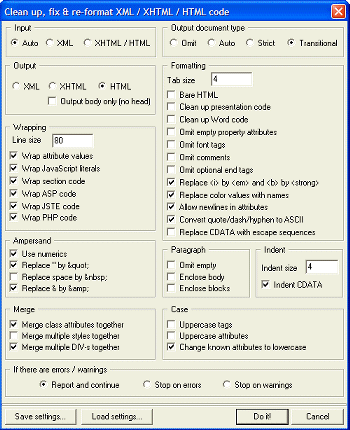 Click here for the full-size image
Has your web site evolved over time? Convert your old HTML code to eXtensible HTML (XHTML), which is in many respects better, faster to render and better organized. Different coding standards, combination of manual and visual editing, differences in upper/lower case, using/not using quote marks for properties, etc make your code exceptionally hard to maintain.
Code Chameleon ensures that all your pages are properly and consistently formatted.
Code Chameleon combines together:
The HTML code formatter / beautifier
The XHTML code formatter / beautifier
The XML code formatter / beautifier, and
The HTML to XHTML converter.
Easy and lightning-fast code editing
Features that make code editing effortless include:
Color-coded syntax - for ActionScript, Active Server Pages (ASP), ADA, Apache, BASIC, batch files, C, C++, C#, Cascading Style Sheets (css), ColdFusion templates, Fortran, HTML, Java, JavaScript, Pascal, Perl script, PHP, SQL, TCL, and VB Script.
You can instantly identify comments, functions, and other elements. Color also helps you with potential problems, for example a text string missing the second " quote.




Ability to experiment - unlimited Undo and Redo are only one click away.

Save time by loading your working files automatically next time you run the program.

Single-click navigation between documents using document tabs.

Line numbers. Optionally, you can have line numbers displayed.

Fast text searching.

Automate code insertion and repetitive tasks, and provide macro-like capabilities via industry-standard Visual Basic for Applications (VBScript).


The brace matching - see the scope of the function or expression immediately.

Have a head start by using predefined templates, or create your own templates: it is much neater and faster than trying to re-use the code with copy-and-paste.

Comment out or un-comment your code with one click.

Comprehensive tutorial.
Must-have tools to speed up your coding
Of course, you do expect all of the above from a good editor. In addition, Code Chameleon incorporates some powerful and essential tools to make your code editing a breeze:
Fast creation of projects and files: Code Chameleon includes templates for common projects and files. This allows you to have a head start instead of starting from scratch.




Bookmarking for easy navigation. Have as many bookmarks as you need, and easily navigate back and forth.


Integration with other tools. Many editors lock you into their own environment, but not so with Code Chameleon. Do you need to compile Java applets and applications? You do that with a single click, and also navigate to the errors in your code automatically for a quick correction.

Likewise, adding new compilers, linkers and other tools takes no time at all. Once they are in place you can always invoke them from the Tools menu.
Get help as you type
Code Chameleon also includes several state-of-the-art productivity tools that you cannot go without once you use them. They save plenty of your time, and a lot more: without them you would find it a lot harder to write error-free code and maintain your documents.
Intellisense / auto-complete monitors your keystrokes and offers pick-lists with member functions, methods and properties, as shown below:
Use Intellisense to:
Speed up your work and auto-complete your statements
Select the function or method from the list
Examine the methods that are available for the given class. Some classes, (e.g., String) have many methods and properties that are otherwise hard to remember, and
Examine the function declaration and its list of parameters.
Code Chameleon supports Intellisense/auto-complete for C# programming language, and for JavaScript, and allows you to add more languages to the list.
Type-in templates are reusable chunks of code which at least double your coding speed. Just type the first few letters of the template and press Ctrl+Space: this will pop a list with all the matching templates:
The template prompts you to fill-in the blanks, if any.
As your expert knowledge grows, you will quickly assemble many pieces of code that you want to reuse. You can do it easily: with just few clicks you can turn any piece of code into a template, with or without parameters.
This is also a great mechanism for creating any startup files.

Quickly insert objects and elements into your code
Relying on your memory to place various objects and elements into your code tends to be error prone simply because there are so many of them. That's why special care was taken to make it easy. Depending on your needs, you can quickly and easily insert the following:
Web page elements

Java comments and C# comments

Date and time

Color in RGB and Hex formats

ASCII characters in Decimal and Hex formats

Web form elements

Symbols
What makes Code Chameleon so easy to use?
"Easy-to-use" is not a phrase I use because the competition does it too. Code Chameleon is easy to use because:

You can use the software straight away: there is no steep learning curve to master.


You will not be dragged through multiple option screens: everything is logically grouped together.


You will never have to hunt for a command through deeply-nested menus.


Powerful tools aid your design whenever possible.


A mouse click (or a keypress) goes a long way: you will not have go through multiple configuration screens to get the job done. The software does lots for you under-the-hood.


You are not left in the dark: step-by-step approach is used whenever possible.
You will find code editing a breeze with your Antechinus® Code Chameleon. The single-user license is yours for only $29.95 FREE. You will receive your Antechinus® Code Chameleon license and registration within 5 minutes of ordering.
The power, ease-of-use, and unique features of Code Chameleon make it an essential tool in your coding arsenal.

Extras you receive with Code Chamaleon:
Easily publish your creations on the Internet with Antechinus® Quick FTP

Publish all your local files on the Internet with this first-class Explorer-like program.
Your remote folders look just the same as the local ones, and copying files to the Internet becomes just another drag-and-drop operation.
Save time with incredibly quick file transfers: Quick FTP does not transfer files on the Internet one by one, but many at the same time.
What are others saying?

People love Code Chameleon! If you wish to see the complete list of awards, click here.

All too often software vendors team up with advertisers, spammers and even spyware to make extra profits. Unlike them, C Point software is certified and guaranteed to always remain free of any nasties.

Code Chameleon is a part of Antechinus® Creative Suite Standard Edition, world's best FREE tool for creating, editing and deploying animations, images, sounds, and other resources.

It does NOT contain any 'helpful' browser toolbars, advertising applets, or nasty surprises. Just great software you use every day... and it's free :)
I look forward to seeing your creations.
With warm regards,

Dr Alex D, Director
C Point Pty Ltd
With its support for 20+ scripting / programming languages, Code Chameleon is a source code formatter / beautifier and editor you are likely to use every day.