Most Popular at C Point
| | |
| --- | --- |
| | Create, edit, syntax check, debug, format, beautify, find and organize your JavaScript, CSS, PHP, HTML and XHTML code quickly and effortlessly |
Add life and interactivity to your website: turbocharge your web pages - effortlessly add multilevel menus, effects, Multimedia capabilities and e-Commerce
JavaScript Editor: enjoy an awesome integrated environment for
JavaScript / PHP / HTML / XHTML / CSS / XML
What's new in v10?
Recommended layout - optimized as a result of our trials
Download 30-day trial of JavaScript Editor

| | |
| --- | --- |
| | Works on Vista and Windows 7 and 8 |
Become JavaScript expert in no time with the step-by-step tutorials

Add visually stunning rollover menus to your pages: the program automatically generates all the JavaScript code for you

Validate your forms

Protect all your email addresses on your website from being harvested by spammers

Design popular fun games that work on multiple browsers and operating systems

Add slider, calendar, color selector, countdown, text effects, tooltips and other elements not supported by HTML

Update just one portion of your web page - with AJAX

Eradicate errors in seconds: test, syntax check debug your JavaScript code

Format other people's unreadable code exactly the way you want it

Design faster than ever with the code templates

Unique: select and run a piece of code straight from JavaScript Editor
- no web page needed.
Even the best of the best make errors:

Eliminate the need to memorize standard functions, methods, properties and parameter lists with Intellisense/auto-complete.

Eradicate logical errors in seconds with JavaScript debugger and its unique single-click debugging. Also featuring:

Breakpoints
Line-by-line execution
Variable Watch
Inspect Variable
Stack frames
...and a lot more

Fix syntax errors instantly: JavaScript Editor finds them, highlights them and explains them:

What are our clients saying about JavaScript Editor (unsolicited):

"There's much debate as to who has the best Javascript IDE and many are merely editors with nothing more than syntax highlighting script plug-ins. JSE Pro is the best out there as I tried in excess of twenty different tools and that's a cold, hard fact.

... I find it really insightful as well as convenient for timely, deep, and responsive JavaScript management."

Robert D. Rush Jr., USA
Check out the Licensing |
More about JavaScript Editor
A treat for your visitors: add a calculator to your site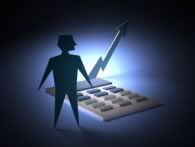 Select from health / medical calculators, loan calculators, mortgage and personal finance calculators, and more. Most popular:
1. Pregnancy Calculator
2. Mortgage Refinancing Calculator
3. Loan Payment Calculator with Amortization Schedule

See all calculators
New:
Love Calculator
Tip: Technology can and does fail - don't forget to backup your site and the critical files from your computer. To this aim, cheap usb drives will do the job quickly and can save you from lots of headache down the road..

Here's something to think about - our JavaScript web calculators are among other things used for binary options! Find out what are binary options, you'll be glad you did, because no other investment mechanism gives you such fast returns.

Many people may not realize that at the casino online sites you can play online games and also mobile games. Most of the sites today offer both types of games so that you can select how you want to play. Enjoy time on the computer or on your hand-held device.

World's best in JavaScript

Video Games
1. Add images

2. Import sounds

3. Create AVI videos



Download it
Install it, and
Create your first animation

All within 5 minutes...
...and at a price tag of only $20

"Best of the best! This is a great program that's simple, stable, fast and inexpensive... If you're looking to make an avi movie, this is *the* best program."

-

"...a nifty multimedia tool that allows you to create AVI video clips..."

- Rocketdownload

"I really liked the demo. First time that I have ever wanted to register any shareware!"

- Mark A Obert, Plainville, MA

Take a look at Animator
Works on Vista and Windows 7 and 8
The Internet is a great resource - but every time you connect you come under threat. What is at stake are your privacy, security and integrity of your data, and your bank accounts.
| | |
| --- | --- |
| | Protect your privacy and browse the web undetected: |