"Two months ago I decided to learn PHP and SQL. I looked around for a decent text editor and tried three before I discovered Antechinus PHP Editor.
After an hour of trying it, I was so impressed that I bought it. Aside from the fact that it has so many useful features, unlike the others I tried, it was so easy to use. Naturally I make lots of mistakes while learning about PHP and MySQL, but the syntax checker in PHP Editor saves me hours of head scratching. It won't be long, thanks to PHP Editor, before I have my first shopping cart working"
- John Wakefield
http://www.cctv-data-
protection.info
"I'm very happy with Antechinus PHP Editor.
I do not write PHP every day, so I am pleased with the intuitive screens."

- Wayne Slepecky
Uplink/MSS
http://mfgsystem.com
FREE Antechinus® PHP Editor:
"Develop cool, fluent websites"
What does that do for you? Apart from continuing to use Antechinus® for JavaScript, JScript, JScript.Net and AJAX development in all the supporting platforms, you now enjoy a robust, powerful and fully integrated PHP / JavaScript / HTML / CSS / XML platform for fast coding and easy development.
Are you using Dreamweaver, Front Page, or another visual editor to design your web pages? If you are, you know how easy it is to put your pages together, and you might ask if there was any point in learning PHP.
Well, it depends... Visual editors are powerful, and if you add JavaScript to your pages you can make them very dynamic. However, PHP works at the server side to produce HTML on-the-fly and is easily combined with MySQL databases.
PHP is therefore a great choice for your shopping cart, chat, polls, form processing, guestbook, and other complex scripts. It works literally everywhere, so it is an ideal solution if you are after multi-platform browser-independent development.
Amazingly, it has even been used for love calculations - to check if two people should get romantically involved. In short, PHP can be used for developing ANY kind of website, be it a love test or a cold-hearted financial calculator.
PHP truly empowers your web development, but there is little joy in coding it with basic syntax-coloring text editors that are built into visual tools. For PHP, you need a specialized tool, fast, powerful and easy to use: Antechinus® PHP Editor.
| | |
| --- | --- |
| | C Point software is certified and guaranteed to always remain free of any nasties. |
"Recently, I have been trying to teach myself PHP for the purpose of
developing more meaningful websites.
I came across your PHP editor program, and compared to all the other editors out there, yours is the easiest to use. I feel it will give me the head start I need to learn and use PHP effectively for our projects... great software!"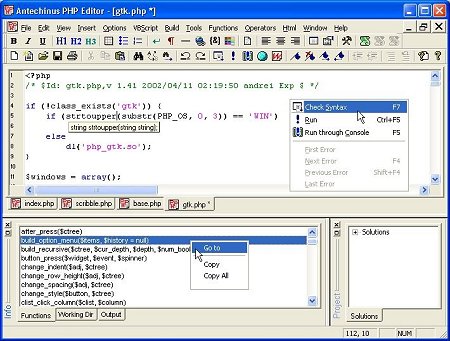 Click here for a larger image
Have you done any web development before? If you are new to PHP, learning it with Antechinus PHP Editor is a breeze. If you are a professional, experienced developer, you will find that it has lots to offer you.
You will enjoy the best tool in its category, Antechinus PHP Editor, which will help you become an expert in record time.
You will also see some unique solutions that will save 80% of your time when you easily re-use your code whenever you need it. I will tell you about it a little later..
Easy and lightning-fast editing of PHP code
Features that make PHP editing effortless include:
| | |
| --- | --- |
| | Unified color-coded syntax - both for PHP and HTML. You can instantly identify comments, functions, and other elements. Color also helps you with potential problems, for example a text string missing the second " quote. |
| | |
| | Ability to experiment - unlimited Undo and Redo are only one click away. |
| | |
| | Save time by loading your working files automatically next time you run the program. |
| | |
| | Single-click navigation between documents using document tabs. |
| | |
| | Line numbers. Optionally, you can have line numbers displayed. |
| | |
| | Fast text searching. |
| | |
| | Automate code insertion and repetitive tasks, and provide macro-like capabilities via industry-standard Visual Basic for Applications (VBScript). |
| | |
| | The brace matching - see the scope of the function or expression immediately. |
| | |
| | Have a head start by using predefined templates, or create your own templates: it is much neater and faster than trying to re-use the code with copy-and-paste. |
| | |
| | Comment out or un-comment your code with one click. Perl-style comments are also supported. |
| | |
| | Complete PHP reference and comprehensive tutorial. |
Crucial tools you do not want to code without
You would naturally expect all of the above from a good editor. However, on top of that, Antechinus includes some essential must-have tools that are not easy to find elsewhere:
| | |
| --- | --- |
| | Context-sensitive help: just hit F1 to receive help on the class, function, method, or property under the cursor. Without this, you would have an impossible task of memorizing hundreds of functions you can call and the parameters you can pass to them. |
| | |
| | Bookmarking for easy navigation. |
| | |
| | Find functions in your documents easily - they are automatically listed. A mouse-click is all it takes. |
PHP Editor also includes several productivity tools that you cannot go without once you use them. I'll tell you more about them later.
Use PHP Editor with Dreamweaver, Front Page and other HTML editors
If you already have a visual HTML editor, bonding it with PHP Editor is easy: you simply open your document with both tools. Whenever you save the page in Dreamweaver, your PHP Editor will automatically re-load it. This makes it easy to switch between visual editing and writing code.
Additionally, use the Editor's Tools menu to add other programs so you can open the document you are working on with other tools. Our competitors' editors often have poor inter-operability. We have takes special care so you can get the best out of PHP Editor by combining it with your other tools.
To this aim, PHP Editor allows you to annotate your scripts better than any other tool, through Running Annotations. This is important because you almost never use your documents in isolation: their use may be linked to programs, web pages, other documents and files.
To use this feature, simply place the cursor anywhere within " " double quotes (or ' ' single quotes) to select the program to run or file to open, and click Run Annotation (or, highlight the text to select it, and click Run Annotation).
Referencing everything from your code makes your projects more organized.
"I have been very impressed with Antechinus Creative Suite. I am especially addicted to the PHP Editor.
I've been programming for quite a while but new to PHP. Before using your PHP Editor, I had to code in one window and continuously switch over to PHP documentation to find functions and parameters that I needed. Now with the PHP Editor, the functions are right there and the parameters are displayed as I type. I can't begin to tell you how much of a time-saver this has been.
I got more work done in the first two days with the PHP Editor than I did in a week without it. I use your software every day and have come to depend on it.
Thanks for a truly great development suite."
- Samuel Miller
http://www.soft2share.com

Have your script error-free in record time
Unless your code is very simple, it usually has typing and other errors. How to you find them and correct them? Without the right tools, this is a daunting task that can take up most of your time. It is not uncommon to spend 10% of time coding new features, and 90% chasing errors!
Syntax check is only one click away. If there are any errors, navigate to them automatically for a speedy correction.
Get help as you type
PHP Editor's productivity tools are a real time-saver, and they are also more than that. Without them you would find it a lot harder to write error-free code and maintain your documents.
Do you know that standard PHP has over 3,000 functions? Antechinus PHP Editor will assist you with parameter lists for all of them as you type, as shown below.
Type-in templates are reusable chunks of code which at least double your coding speed. Just type the first few letters of the template and press Ctrl+Space: this will pop a list with all the matching templates:
The template prompts you to fill-in the blanks, if any.
As your expert knowledge grows, you will quickly assemble many pieces of code that you want to reuse. You can do it easily: with just few clicks you can turn any piece of code into a template, with or without parameters. This is also a great mechanism for creating any startup files.
Type-in templates are an effective way of re-using code fragments and small pieces of code. For large quantities of reusable code, company logos and other images, and other reusable resources, PHP Editor provides you with the Solutions pane, which is always at your fingertips when you run the program.
Eliminate guesswork: view your pages and
run PHP scripts with one click
You do not need to place your PHP scripts on the web to see if they are working. Complete and test your design locally, before copying your files on the web.
If you have a web server running, telling PHP Editor to use it to view your pages is easy.
If you do not have a web server in place, PHP Editor will tell you where to download PHP Triad, which includes Apache web server.
Even without a web server, your PHP Editor can run the scripts, and capture and show you the output.
You don't need to waste time switching to the command prompt, or have the script execute and close before you can see what's going on.
If there are any errors, you'll find them quickly: just hit F4 to go to the exact location of the first error (and subsequent ones) in your code.

What makes our editors so easy to use?
"Easy-to-use" is not a phrase I use because the competition does it too. PHP Editor is easy to use because:

You can use the software straight away: there is no steep learning curve to master.


You will not be dragged through multiple option screens: everything is logically grouped together.


You will never have to hunt for a command through deeply-nested menus.


As you can see from testimonials, we hear all the time from our customers how easy-to-use PHP Editor is.


Powerful tools aid your design whenever possible.


A mouse click (or a keypress) goes a long way: you will not have go through multiple configuration screens to get the job done. The software does lots for you under-the-hood.


You are not left in the dark: step-by-step approach is used whenever possible.
You will find your Antechinus® PHP Editor an essential addition to your web development tools. It is powerful, yet easy to use with many unique features you will not find anywhere else.

You will enjoy designing better, fluent web sites, and have fun in the process.

Have you been to the competitors' websites? I am always puzzled how some of the programs with the same old features and without an original thought can cost so much. Well, Antechinus® PHP Editor is a first-class product, but it won't cost you an arm and a leg. The single-user license is yours for only $49.95.

"I have used Antechinus PHP Editor for a project to change our static web to a dynamic web using Mysql and PHP (www.ncrr.dk).

After testing a lot of PHP editors I decided to choose Antechinus PHP Editor because of the price and functionality had a perfect match."

- Søren Winther Nielsen, IT-administrator
National Center for Register-based Research, University of Aarhus
Taasingegade 1, DK-8000 Aarhus C Denmark
www.ncrr.dk - www.registerforskning.dk


You will receive your Antechinus® PHP Editor license and registration within 5 minutes of ordering for the one-time low payment of $49.95.

Now shipping as an integral part of PHP Editor:


Easily publish your creations on the Internet with Antechinus® Quick FTP

You can publish all your local files on the Internet with this first-class Explorer-like program. Your remote folders look just the same as the local ones, and copying files to the Internet becomes just another drag-and-drop operation.

Save time with incredibly quick file transfers: Quick FTP does not transfer files on the Internet one by one, but many at the same time.

What are others saying?

PHP Editor won many awards - too many to list here, so I am only showing you few here. If you wish to see the complete list, click here.

| | | |
| --- | --- | --- |
| PC World | Blue Chillies.com | HTML.it |
| | | |
| | | PC SoftLand |
| | | |
| | | |

You'll love PHP Editor - everyone else does too!

We have had excellent reviews of PHP Editor, but for me the best feedback are the e-mails of support from people using it. You have companies that use Antechinus PHP Editor to provide PHP training: Accelebrate and Webucator, or custom PHP solutions: MrPHP...




PHP Editor is a part of Antechinus® Creative Suite Standard Edition, world's best FREE tool for creating, editing and deploying animations, images, sounds, and other resources.

It does NOT contain any 'helpful' browser toolbars, advertising applets, or nasty surprises. Just great software you use every day... and it's free :)
I look forward to seeing your creations!

Dr Alex D, Director
C Point Pty Ltd